3 Feb 2021
Pensacola Beach, Florida, is one of the most underrated Floridian destinations—perfect for anyone wanting to visit the Gulf Coast's warm, white sand. When you stay at Portofino Island, your stay in Pensacola Beach is sure to be a one-of-a-kind adventure. Portofino Island specializes in making sure your Floridian vacation is one you'll remember for decades. During your time in Pensacola Beach, you absolutely have to spend a day at Fort Pickens. Part of the Gulf Islands National Seashore, this is an important historical spot that needs your attention if you want to experience what Pensacola Beach is all about. Here is how you can expect to spend an afternoon at Fort Pickens.
A Quick History of Fort Pickens
In the 1820s, the US started building forts along Florida's seaboard, and one of those forts was Fort Pickens. It was built in an area perfect for protecting ships (on Santa Rosa Island), and the old fort and its 200 cannons still remain for you to observe with your family. 
Explore Fort Pickens
There are plenty of areas for you to explore during your visit to Fort Pickens. Remember: Please keep in mind that Fort Pickens is part of the Gulf Islands National Seashore, which means you'll need to pay the National Park Service entrance fee to visit. For a vehicle to enter the park, it will cost $25 (Gulf Islands National Seashore also accepts the America the Beautiful Pass). Once you're in the Fort Pickens area, you'll find that there is a shuttle that can take you to all of the important areas of the fort.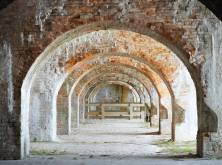 Learn about Fort Pickens at the Fort Pickens Discovery Center. Visit Langdon Beach for a swim and a picnic. Get a snack and learn about the history of Fort Pickens at the Mine Storeroom. Go fishing at the Fort Pickens Fishing Pier. There is so much to do during your day at Fort Pickens; it just depends on what type of traveler you are.
A Long-Awaited Gulf Coast Getaway
After exploring Fort Pickens itself, check out some of the other areas, such as Fort Barrancas, the Naval Live Oaks Area, and the Perdido Key Area. This trip to Fort Pickens and the Gulf Islands National Seashore is sure to give you a beautiful overview of the landscapes and the history of the Pensacola Beach area during your long-awaited vacation so that you make this a trip you'll never forget!
To book a well-deserved, customized vacation at Portofino Island, simply give us a call today at 850-916-5000.